Just a quickie update on the Free Farm Stand. Things are going great,  recently every Sunday has been gorgeous and the sunny weather has been a treat. It also seems to bring the crowds out. Unfortunately the last two weeks we have had so little produce to share, though the second shift we have been loaded with fruit. I have been able to bring some seedlings, this week cabbage, and they are very popular. I talked to one Latino man who loves taking the seedlings and he said he grows them for his grand daughter so she can have the experience of growing a garden. He doesn't get a lot of produce to eat from his tiny garden, I think he grows things in containers, but he really enjoys growing the plants we supply. This is the real goal of the Free Farm Stand is getting people to grow some of their own produce.
The Free Farm is winding down in terms of what we can bring to the stand right now. We are bringing the last of the summer crops like tomatoes and peppers and squash. I also brought some of the beautiful perennial sunflowers that I so much enjoy.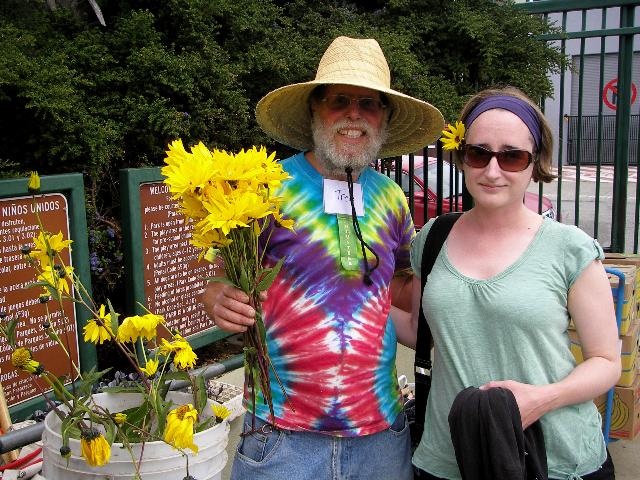 How local can we get…Ross and I harvested chestnuts I planted in  1982 on 23rd St. a block from the Stand.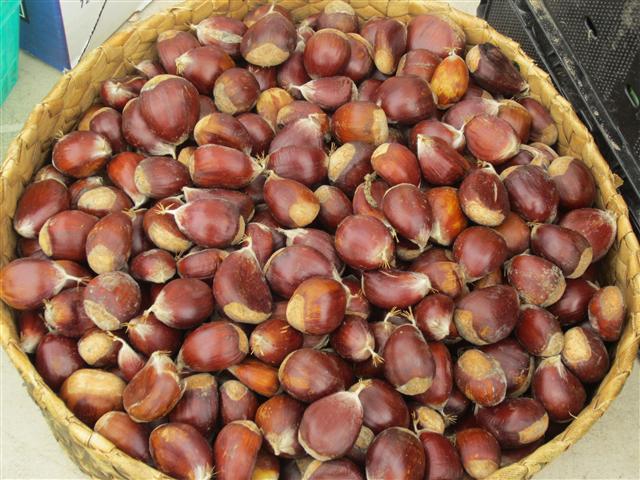 I noticed a friend of mine wrote on her blog about her chestnut harvest in NE Georgia: http://madhupamaypop.com/2012/09/07/chestnuts-winter-is-near-fall-is-here/. Our chestnuts look somewhat  the same  because hers are Chinese Chestnuts while ours has some Chinese heritage in them.
October 1st is World Meatless Lunch Day http://worldmeatlesslunch.org/. "For the first time, there will be a global movement where all people shall join together on one "virtual table" to see whether they can find a better alternative to meat during lunch break on October 1, 2012." I wonder how many people know that the Free Farm Stand promotes a vegan diet, though some weeks we get bread or pizza from Arizimendi  Bakery that is not vegan.
Here is some good news for the Free Farm Stand, because we were told we could not give out tastes of homemade jam or honey because they were not processed in a code kitchen: California Homemade Food Act, AB 1616, SIGNED by the Governor! http://www.theselc.org/cottage-food-laws/. As part of a growing movement to localize food systems and stimulate small-scale food production, SELC proposed that the State of California allow for the sale of certain homemade food products, namely: baked goods (but with no cream or meat fillings), jams and jellies, granola and other dry cereal, popcorn, waffle cones, nut mixes, chocolate covered non-perishables (such as nuts and dried fruit), roasted coffee, dried herbs, dried tea, dried fruit, honey and candy. You can read more about the bill that was just signed into law here."
Our Sunday I heard from Ryan that Kezar Gardens got another eviction notice. I had been there for the Be-in and it was the first time I had seen the garden. It is really beautiful and I don't understand why the garden has to move  out (or for that matter why does the recycling center have to move out too?). Is San Francisco supposed to be "green" and supports recycling and gardens. Does it matter who uses the garden or recycling center, isn't it all good? I guess we need to keep an ear open in case they really go ahead with the eviction, I have a feeling there will be non-violent love warriors there try to stop it.