Last week a friend who grew a huge amount of flowers at the Growing Home Garden on Octavia before it was closed down for development, sent me some photos that really made my day.

The first photo is of a peach tree that was left behind in the garden, abandoned, waiting to get the ax literally,  and not watered since the developers closed the garden (that was originally built as part of Project Homeless Connect for the homeless). It was loaded with peaches. What an act of non-violent  defiance! I thought the tree was telling us fuck development I will keep producing fruit no matter what. What an act and gift of resilience and love, if only humans could always show that spirit of faith and courage.
The other picture was a bowl of peaches that were collected from the tree by  fruit activists climbing the fence and harvesting the ones that could be reached (word has it if they haven't  fallen off the tree there are more peaches higher up). Like the line in the Woody Guthrie song "this Land is Your Land", on one side the sign it said private property but on the other side it said nothing. I was told the peaches were sweet and delicious.
There are a lot of fruit trees in the city like this that we don't know about and  then they  get discovered. Sometimes I hear about one in my neighborhood.  This happened recently with a loquat tree  that I had been told about that was visible from the street and loaded with fruit and not getting picked. Luckliy one of our volunteers saw it and knocked on the owners door to see if she could pick the tree and give the fruit away at the Free Farm Stand. The owner of the tree was more than happy to oblige her and even came out to help pick the tree. We gave away 36 pounds of fruit the next day from that tree and there is more on it. I really miss the organization  Produce to the People that used to glean fruit in the city and give us a ton of it to share at our stand. As we enter fruit season I keep thinking we need some volunteers to form a phone tree that can go out on short notice to collect fruit that needs picking. Also at the Free Farm Stand this week we had lots of left over soft stone fruit and in the future I need help processing it all.  Just like we need  a list of people to call when we have fruit that needs harvesting, we need a soft fruit hotline to connect soft fruit with people who can process it in some way.
I reported a while back that the former Free Farm land  was still undeveloped  and there was still kale and mustard and flowers growing there (and some was harvested),. Just yesterday I got an email confirming rumors I heard that development of that property is going ahead: http://www.socketsite.com/archives/2015/05/from-the-flames-of-saint-paulus-these-condos-could-rise.html.  Not to dwell on the negative too much, but not only will market rate condos be built versus affordable housing, it is the standard modern unimaginative  architecture being built. And I can't see how they can claim that they are building a house of worship under these condos, the space and design wouldn't inspire me to seek the solace of the divine there, though  I suppose the divine is everywhere.
And here is an article about the buildings on Turk St. that have been vacant for years behind the former Free Farm site and were occupied a number of times by protesters want the buildings to serve the community. Seems like they are being remodeled into a  school: http://www.socketsite.com/archives/2014/07/auspicious-plans-occupiers-something.html. With all this development little is being done to make some space for wild  habitat (though it looks like a roof top garden is planed to go on top of the condos).  I remember the wonderful hummers and  hawks that visited our farm.
In fact in the Eastbay hills there are plans to clearcut the land:  http://www.saveeastbayhills.org/take-action.html. "Oakland Mayor Libby Schaaf, U.C. Berkeley Chancellor Nicholas Dirks and East Bay Regional Parks District General Manager Robert Doyle have received federal funding for an environmentally catastrophic plan to destroy Eucalyptus, Monterey Pine, Monterey Cypress, and Acacia forests on the public lands and parks of the East Bay . Starting in August, over 100,000 trees and as many as 400,000 in the East Bay hills will be clear cut and thousands of gallons of toxic chemicals made by Monsanto and Dow will be dumped on their stumps. Costing nearly $6 million, this plan will radically transform the character and appearance of the hills while causing great animal suffering, including the decimation of habitat vital to several endangered species."
And lets not forget the Gill track land being developed and the efforts to stop it http://occupythefarm.org/. The previous efforts to protect some of the land were successful and now there is a Gill tract Community Farm https://gilltractfarm.wordpress.com/
Here are some other musings:
I ran into a person I know on the street who is  what I called damaged goods. Very friendly to me and always offering to help me do anything, yet is an alcoholic and has a past history of stealing from his friends  and in general messing up all the time. He introduced me to a friend of his who also seems to have a hard life and probably lives on the street. He said this friend  often sweeps the sidewalk (this is across the street where I live with a million plus home  is and a recent homeless encampment  has grown including a funky sidewalk lean-to attached to the chain link fence  surrounding of the abandoned super market).  At that moment I realized that yes the divine is in everyone and that I need to try harder to see it in my friend.
I am excited to meet and make some new friends on June 9th at the All in Common Garden at 10am until noon (we will be doing some garden work and sharing lunch and conversation…all welcome but please RSVP first). There are 14 people from Japan visiting the bay area on a "Life Transforming California permaculture tour" to check out projects based based in gift ecology (aka gift economy). "Gift Ecology – the ecosystem based on trust and mutual support, the world of abundance with gift and love. A difference of paradigm from out exchange and scarcity based economic system." Here is a blog about their project: http://livingpermaculture.blogspot.com/2015/03/hello-im-currently-touring-around-japan.html. With all the negativity I have been sharing above, I think this tour and the conversations it will brew will inspire hope and excitement.
Here are some photos from previous weeks of Free Farm Stand /All in Common Garden excitement and glory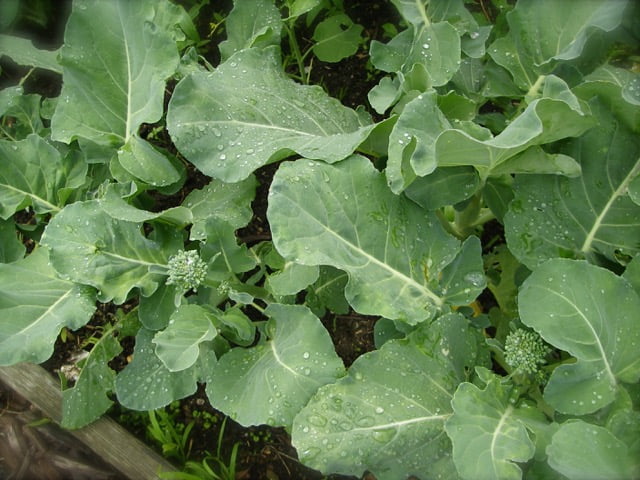 My  favorite new vegetable Spigarello broccoli. "It is an heirloom variety considered to be the parent of broccoli rabe. The name Spigarello is actually a purposed American corruption of the plant's given name, Spigariello. Its real name is Cima di Rapa, which translates to "turnip top" but is also loosely translated to broccoli rabe. – See more at: http://www.specialtyproduce.com/produce/Broccoli_Spigarello_4117.php#sthash.YVIUhdao.dpuf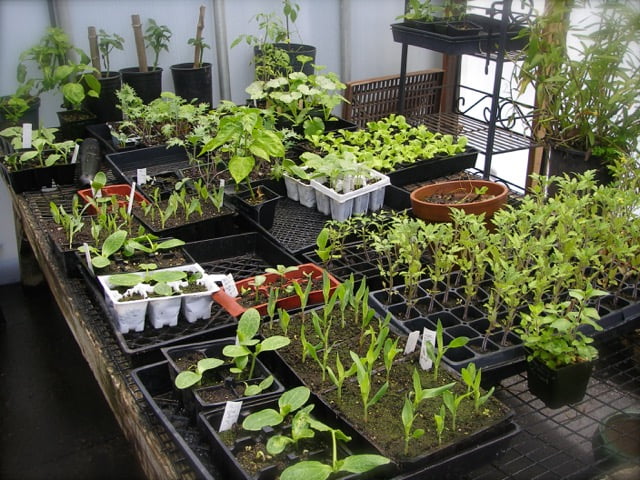 Seedlings in new greenhouse…most of these have now been planted or given away
The seedling table has been really full these past weeks thanks to Alemany Farm and Hannah and the Urban Ag Program and some from our greenhouse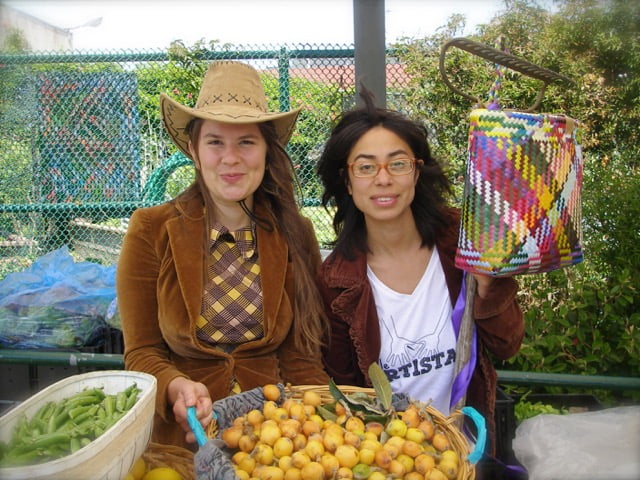 Windsong and friend harvested some local loquats. I love the colorful handmade picker attached to a rake
Zack sharing some of his garden surplus at the Stand. He recently sent out an email message hoping to get some help in his garden
I love the beauty of artichokes and think more should be planted everywhere especially on sidewalk gardens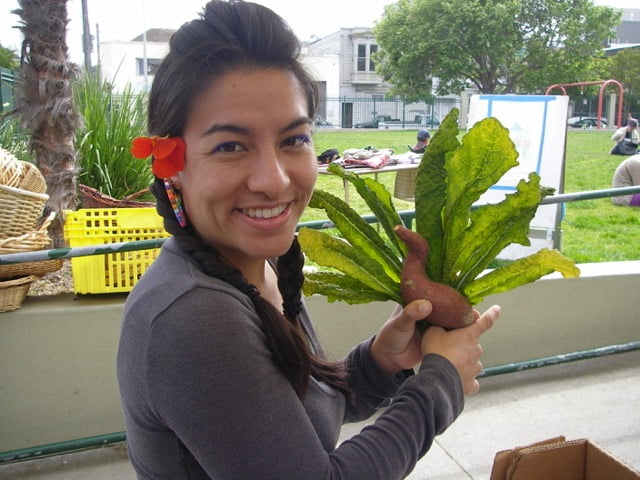 We get the best volunteers, you should join our crew
Daikon radishes have been a plenty!